Welcome to you, to you and to your words today.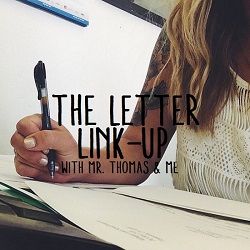 This letter is part of the letter link-up.
While I am spending my letters documenting moments within our marriage before children for our children because they won't know us without them, but you are allowed to write your letter to anyone, on anything with the prompt being simply a starting point.
This letter is one in a series of letters I write to remember mundane moments of my marriage that would otherwise slip away. I write with a dedication to hold tight to him and to remember how life looks right now at this very moment. The chance for these letters to shed light on our marriage before children for our children because they won't know us as newlyweds is a much loved and added bonus.
- - - - - - - - - - - - - - -
Dear Jason,


I went away for a long weekend last month. It was lovely, refreshing, and full of adventure in a city I didn't know. But I missed you.
I missed you in the way that a little kid misses -not aware, but then undeniably. It started as being busy with the fun of San Francisco and distraction from your absence. I biked and dined and wined and danced. I giggled and slept in and drank too many coffees. I shopped a bit, talked a lot, and made my first ever 40,000 step day. It was lovely.
The weekend's fun would subside in small dips of restful quiet and I would miss you like a preteen boy. It was an indignant miss that pretended not to be mushy or quaint, only empowered and strong. It was a secret miss that even I couldn't recognize. But it was there, latent.
As we ran from Union Square to Chrissy Field, I celebrated the freedom you give me. The freedom to go and do, to be and see, to travel and to miss. And there, in the realized identity of growing up, I missed you in an intense way that only a teenage girl can manage. In a way that dances on the line of dependence and individuality.
And then we celebrated. We sat in a dark, dusty bar and tried egg white cocktails. We swiped through our roll of photos from the weekend. We talked about the city, the way it's different than our small town. We had dinner, walked some more steps, celebrated our weekend with an ice cream Sunday and wine. Early bed times beckoned because of our predawn flight and I missed you as a wife.
I missed you and wanted work to let you off early so I could wrap my arms around your neck. I missed you while I did the laundry that smelled of you, while I made the bed that hadn't seen anyone but you, while I bathed the dog who spent the weekend being yours. And in the depth of coming home to an empty house, I knew I was made to spend my life loving you when you're here and missing you when you're gone.
I will love you and miss you as long as my heart can live,
Amber
- - - - - - - - - - - - - - -
Date for December's Letter:
Monday, December 21st
When Your Light is Brightest
- - - - - - - - - - - - - - -
And now, the important part, YOU: