Welcome to you, to you and to your words today.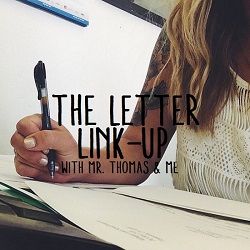 This letter is part of the letter link-up.
While I am spending my letters documenting moments within our marriage before children for our children because they won't know us without them, but you are allowed to write your letter to anyone, on anything with the prompt being simply a starting point.
This letter is one in a series of letters I write to remember mundane moments of my marriage that would otherwise slip away. I write with a dedication to hold tight to him and to remember how life looks right now at this very moment. The chance for these letters to shed light on our marriage before children for our children because they won't know us as newlyweds is a much loved and added bonus.
- - - - - - - - - - - - - - -
A book I am reading talks about the way cities have words. Each city gets a word -noun, adjective or verb- to hold and have and live out. The book went on to share words for different cities in Italy. Words like sex and power and succeed and achieve. These words give a sense of the places they describe. And then, the main character had to decide on a word for herself.
I wondered, what word would speak to my place. I wondered how I am seen, felt, and perceived. Then I thought of you and your word:
Shelter.
We, as humans, have three basic needs: food, water and shelter. We need sustenance and we need safety. I cook and fuss providing for our hungers and thirsts. But you, much grander, you are my safety in this adventurous (and at times unpredictable) life.
You are the patient fort, standing firm and uncomplaining, while I am the hawk out hunting for inspiration to bring back home as the sun sets. Out I go, flying and determined, while you continue to create a safe, welcoming place in which I can settle my tired soul.
Every morning you dare me to go forth and find; every night you inquire about the day's treasures. This process gives me life. And so, I promise I'll be the cook, if you'll be my shelter.
Always inspired in your graces,
Amber
- - - - - - - - - - - - - - -
Date for November's letter:
Monday, November 23rd
The topic:
The Power of Missing
- - - - - - - - - - - - - - -