Welcome to you, to you and to your words today.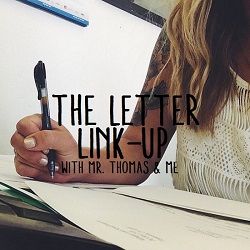 This letter is part of
The Letter Link-Up
. They are written to remember mundane moments that would otherwise slip away, to hold tight to him, and to remember how life looks right now at this very moment with the chance to shed light on your heart.
While my letters are documenting moments within our marriage before children for our children, you are allowed to write your letter to anyone, on anything with the prompt being simply a loose and suggestive starting point.
- - - - - - - - - - - - - - - -
I make up the prompts for each of these letters and write them out a month beforehand. I have learned by now (nine months into this year) that each month I'm signing up to learn something new from you. I know whatever word I type out will become a word redefined over the course of the next thirty days and this month was no exception.
I threw a fit on our trip to Denver. You wanted to hike and it wasn't that day yet. I dread hiking for a reason that remakes unnamed and unknown. As soon as we're a ways out I smile and laugh and talk through all the random things that come up when you're away from it all and lost in the hills. I dread hiking and so I say it is not time.
You ignored my fit, stopped in a bike shop and asked for the nearest trailhead's location. You drove me there, it was steep and high. You tied on your shoes, I mine, and off we went with water bottles in hand and phones in our pockets.
I've always imagined compromise as two rams butting heads on steep rocks. I imagine them backing up and running into one another over and over again. One eventually gives up, full of head ache and exhaustion, while the other has their way. I've always imagined myself as the more stubborn of rams, butting and pushing until I win.
But you win. You win often because you compromise in subdued ways. You're silently strong, waiting out my emotional storm, ready to pat me on the back when the job is well done. You allow me to wind up, knowing I will come down, and then you offer a high five. You don't meet me there with my angry stance and battering ways. Instead, you let me put on a show and you watch as I empty myself out. Then, when it's safe and I'm tired, you pick me up and push me on.
You win and I learn -a win for me too. I meant that promise I made on the side of the mountain outside Boulder; that promise about learning to live a little bit more patient and compromising the way you do. Remind me of it often sweet, stern soul.
Thankful always to give up my will for ours,
Amber
- - - - - - - - - - - - -
Next month we're going to talk about:
And we'll be writing, linking, loving on
- - - - - - - - - - - - - - -
And now, my friends, your words and thoughts and letters: