Welcome to you, to you and to your words today.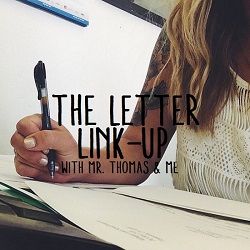 This letter is part of
The Letter Link-Up
. They are written to remember mundane moments that would otherwise slip away, to hold tight to him, and to remember how life looks right now at this very moment with the chance to shed light on your heart.
While my letters are documenting moments within our marriage before children for our children, you are allowed to write your letter to anyone, on anything with the prompt being simply a loose and suggestive starting point.
- - - - - - - - - - - - - - - -
Dear Jason,
I got an email from a wise, married woman once. It said,
"I see the way he looks at you and I know this is for life."
It was an unexpected surprise in my inbox, a beloved reminder that I am beloved, a bit of dearness I have starred and sitting there in Gmail for a rainy day. Sometimes when I think about her words, I find myself wondering what part of your gaze is made up of forever.
You have always said you knew I was a woman worth marrying the very first night we sat on bar stools at the dirty kitchen counter in your Salem Court house. You looked at me then, in the same way you look at me now. From those early days you said you knew some man would be lucky to call me his wife. I don't know that you knew you'd be that man, but I believe in those first meeting moments you got the forever look in your eyes.
I'm sure that piece has grown over the last six years. Slowly we grow together increasing our inside jokes and retracing the awkward steps of our early dating days. We connect over chilled beers, breakfast burritos, and chocolate chip cookies, our eyes resting comfortably upon one another. I think it's there, in the history and the present and the future that we develop forever eyes.
Sometimes I want to step out and watch you look at me. Sometimes I wish I could see the forever part in my own gaze over you. But none of those thoughts hold a candle to the way your gaze taught me how I'm beloved.
I find myself hoping other women get to experience this. I wonder who brings them the lesson about being beloved. I thank Him for the way marriage teaches us precious, life-breathing things.
I'm beloved by you. I'm beloved by Him. I can see it in your eyes.
You're the loveliest man in the land,
Am
- - - - - - - - - - - - -
Next month we're going to talk about:
And we'll be writing, linking, loving on
- - - - - - - - - - - - - - -
And now, my friends, your words and thoughts and letters: