Welcome to you, to you and to your words today.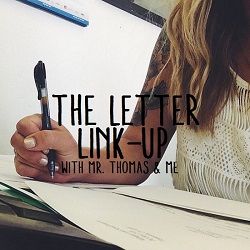 This letter is part of The Letter Link-Up. They are written to remember mundane moments that would otherwise slip away, to hold tight to him, and to remember how life looks right now at this very moment with the chance to shed light on your heart.
While my letters are documenting moments within our marriage before children for our children, you are allowed to write your letter to anyone, on anything with the prompt being simply a loose and suggestive starting point.
- - - - - - - - - - - - - - -
We didn't take very many pictures together this month. I struggled to find one of us, something I am grateful to say isn't typical. In fact, I was relieved when we took this picture at the bowling alley, the night before I had to write this post because it was going live the following day. I was relieved, mostly, but there was a little part of me that wondered what happened this month, wondered why we didn't take a few pictures together here or there.
I think we get lost sometimes. I think we get lost in the fact that we're special because we're us. I think we have all these forces of nature acting on and around us and in the madness of the seasons we forget the way we are uniquely made to love one another. It's our shortcoming, the way we want to be a part of the fun, all the fun, with everyone and then we're tired and we've cut the time for ourselves short. In fact, it's a fault that we have that lead us to fighting with one another. It's a downfall that sends us into frustrated arguments over how this happened to us again.
When we were in premarital counseling we had to guess what our biggest struggle would be. They wanted us to say where our sticking point would be found. We looked at each other and guessed money -I think because everyone else was guessing the same. But I don't believe that's our sticking point, I believe it's the place where we have families and friends who are fun and exciting, who invite us places and, of course, we say yes. We say yes and yes and yes. And it's all good, all fun and games until we're exhausted and craving some time in silence with one another.
But this letter isn't about arguing or our issue with time management. It's about the way you so easily forgive me -forgive us. We lay in bed, you rub my back, and we laugh about the way we've fallen into this fight once again. You let me curl into a ball in your arched arm and you rub the ends of my hair between your fingers while we talk about the weirdest things people can say. You don't hold it against me, don't keep you guard up, you forgive and forget in moments flat.
You said your strength is consistency. I think that's true. You are a consistent example of grace. You are a constant reminder of His amazing grace and the way it has radically changed what it means for us to love and to live. So, be consistent my dear husband. Be consistent and be mine.
Glad to be in your graces and then some,
- - - - - - - - - - - - - - -
Next month we're going to talk about:
And we'll be writing, linking, loving on
- - - - - - - - - - - - - - -
And now, my friends, your words and thoughts and letters: