Welcome to you, to you and to your words today.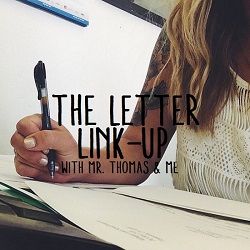 This letter is part of The Letter Link-Up. They are written to remember mundane moments that would otherwise slip away, to hold tight to him, and to remember how life looks right now at this very moment with the chance to shed light on your heart.
While my letters are documenting moments within our marriage before children for our children, you are allowed to write your letter to anyone, on anything with the prompt being simply a loose and suggestive starting point.
- - - - - - - - - - - - - - -
The other day you asked me about my dreams. Well, you actually asked me to lay out my five-year plan. I mumbled and jumbled and wished Hazel would barf on the floor so I could do something -anything- else. I had no clue what five years from now holds, so I put together a bunch of random messy syllables that were more misunderstood than sensible. You stared at me and waited in silence. And I crunched under the pressure the same way an empty beer can does under one's
sandal-ed
foot.
I didn't know what to say because I don't chunk my life out into five years or four years or even one year. I have these wild ideas and I pretend they'll just arrive the way Santa and the Tooth Fairy do. But, that's not how this happens, does it?
I don't have tread on my boots to hit the ground and run in because I'm not applying myself in the way you know I can.
You know me. You see the potential, you remind me that you fell in love with a college girl with bold and wild dreams. You know she's still in here, dulled by dementia and life and a focus on this very moment. You don't get caught in there, you don't hang out in right now with no regard for tomorrow. No, you are the man with a plan who wants to see me out there chasing some goals.
You say you can win at a task and you do. You're a man that knows he has two weeks off of work around Christmas time and decides that's ample opportunity to take up woodworking. You're a man with a goal and subsquent plan. You don't always know the way to get there, the way to conquer the mountain ahead of you (and us), but you always succeed. You do it gradually, bravely, and -mostly- with grace.
And now, with your questions and your prodding, there's a dream and a plan. There's a path on which to hike, hoping to find what's on the other side of this five-year mountain. I was lucky to get to follow you in all the adventure. Lucky to follow you until now. Now you've opened up space for me to lead. You've charged me with the tools, challenged me to go and do, asked me for deadlines and goals. I gave them to you, half-heartedly, then laid awake at night and thought about how boldly, how certainly I can do this not only with you, but for you. I can make this into a whole-hearted adventure, an endeavor that will redefine goals and circumstance.
I can do this to show you the way you've been the best teacher of life.
Love is learned and you're the best tutor in the land,
- - - - - - - - - - - - - - -
For those who want to know more about the dream, my dream, it's here. It's Amber Thomas Makes: original art from my hand to your heart and home. It's just a beginning, a stepping stone, a place where you've all encouraged me to pieces. It's a start at a five-year plan -or at least a two year plan.
- - - - - - - - - - - - - - -
Next month we're going to talk about:
And we'll be writing, linking, loving on
Monday, July 20th.
- - - - - - - - - - - - - - -
Your turn. Your turn dear friend: