Welcome to you, to you and to your words today.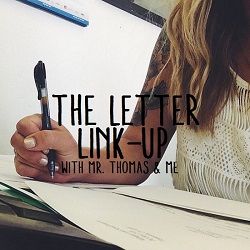 This letter is part of The Letter Link-Up. They are written to remember mundane moments that would otherwise slip away, to hold tight to him, and to remember how life looks right now at this very moment with the chance to shed light on your heart.
While my letters are documenting moments within our marriage before children for our children, you are allowed to write your letter to anyone, on anything with the prompt being simply a loose and suggestive starting point.
- - - - - - - - - - - - - - -
We were once in a bible study where the topic was drudgery. Each week we tackled another way life can drag, heavy and exhausting. Jobs, family, church, money piled up on the cart of living, weighing down our souls. We were newlyweds and heard the conversation, but we were opposed to such rigorous routines. We sat and thought "maybe one day" in wistful, newlywed ways.
I've always been a girl who has to hide her eye roll when people say the word routine. I think of drudgery when they say it. I loathe the idea of mundane days rolling into one another over and over again. I hear how days have structure and how weeks blend into one another because it's about doing the same thing over and over again and want to die a little bit inside. I hate thinking of daily life as drudgery and yet, it's so simple to feel that way.
While we were in Utah I heard you talking to your brother. You were telling him about our morning routine. I heard the word and my soul cringed. I was surprised to hear that we're old now, no longer newlyweds, and settled into some daily rhythm. I wanted to laugh and say you were lying, but you hit it head on.
You said I run before the sun, then I play the role of your alarm clock. You said you wake every morning to me bursting into the room high on adrenaline and caffeine. You talked about how we chat as we prepare for our days, often covering the news report I get in my email at some obscene morning hour, then you load up for another morning commute after you kiss me good-bye. I holler "drive safe!" as you head out the door; some days you tell me it's National Risky-Driving Day and I laugh at the
predictability
of our life together.
I heard the way you talked about our routine to your brother. And I knew you'd got it right.
Instead of feeling sad, begrudged and angry at the boring mundane place that this settled, married routine can be, I found a fondness at the way you described our days. You covered the ritual and routine of our mornings while my soul smiled a radiant, thankful sort of grin. We sat on the wood floor of their living room -far away from home and our dying lawn- and all I wanted was to burrow down into the cozy blankets of our life and feel the warmth envelope me. I wished to be home in our blue-walled bedroom and close my eyes to let the peaceful
rhythm
of our life to cocoon us.
I've never thought those early moments between sleeping and waking and working as our routine. They are comfort, a threshold, blessed bits of peace before business as usual. As our lives change, our routines alter, our roles transform, may we seek out our place of peace.
Any routine is beloved with you,
- - - - - - - - - - - - - - -
A Lesson You've Taught Me
- - - - - - - - - - - - - - -
And without further fuss, the links for May: