There's something about a good book.
There's also something about a good friend.
I have a good friend who reads good books and always tells me about them and it makes me insanely happy. It makes me want to follow her into libraries and book stores and let her show me how she goes and pulls these beautiful gems from the shelves. She's one of those people who doesn't just read what's popular or highly rated, she grabs things I've never heard of and she reads them and then reviews them. Those reviews make me want to read them.
Then she sent me one for my birthday. A beautiful book with a lovely note and it warmed my soul.
Then I sent her one for hers because I could cross my fingers and hope she hadn't yet read one.
And she hadn't. Hallelujah.
Then we got to talking about the bookworms of the blogging world. And how we wish there was a way for us to come together and talk about books but still read what we love. We all know the hardest parts about book clubs is when someone else picks a 700 page novel from your least favorite genre.
That's when #Collaboreads was born. In the small space between we wish there was this and we could make it. Rachel was the mastermind, I was the muscle and you are the receiver of our gifts.
Meet #Collaboreads: a book lover's link-up.
We introduce you to (what we believe) is the best and simplest book link-up in the land. It works like this:
We will pick a random criteria for your book. It'll look something like: published the year you were born or mentions a city in your state or historical fiction about an era you really don't know.

You find your book. (It's probably a good -or even great- idea to get a library card!)

Read. -You'll have a month.

At the end of the month we'll review(ish) our books. Rachel and I will both have places for you to share your links in our posts.

Repeat steps 1 - 4.
It's simple. Right? Pick, read, review.
Because we'll be reading different books, we decided to make the review process a little more stream-lined. So, we made a little mnemonic for the suggested (completely suggested, you're allowed to do it differently) way to do your review:
Riveting

.


What part of the book could you NOT get enough of?


Elements.
How did you relate to/care for the characters?


What's your thought on the plot line and twists and turns?




Associate

.
What other books are like this one?


If none, did it remind you of a particular TV or movie with it's themes and characters?

Does it

serendipitous-ly

line-up with things going on in your life or the news right now?


Design.
You know you judged this book by the cover.


What did you think of it? How did it relate to the contents of the novel?

And the font and layout of the pages?
Stars. How many out of five do you give this book?


Would you recommend this book to a friend?
We want this to feel fun and exciting. We want you to look forward to your reading and your reviewing and sharing all the interesting (or not so interesting) facets of your book. You can blog, you can vlog, you can be not-a-blogger and post on social media (that's what that nifty hashtag is for). We just want you there. Or here. Wherever you are, we want you.
And like any good link-up, I've got a button for you to use too!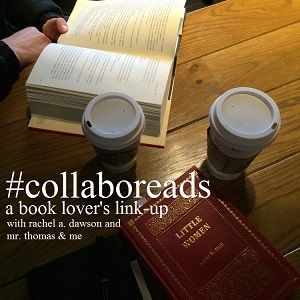 Please join us for the first link-up on Monday, June 29th.