Welcome to you, to you and to your words today.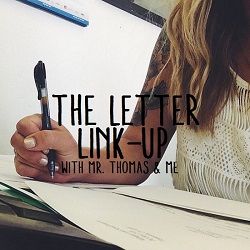 This letter is part of The Letter Link-Up. They are written to remember mundane moments that would otherwise slip away, to hold tight to him, and to remember how life looks right now at this very moment with the chance to shed light on your heart.
While my letters are documenting moments within our marriage before children for our children, you are allowed to write your letter to anyone, on anything with the prompt being simply a loose and suggestive starting point.
- - - - - - - - - - - - - - -
If someone asked me to guess what role you'd play in my life the day we met, I would have giggled and said you were cute. I might have guessed that I'd date you. I may have said we would go to formal together, that I might venture to Las Vegas with you, that we'd walk along that bay walk you lived near. I might have mentioned something about boyfriend, relationship, love, but I wouldn't have said husband.
I wouldn't have said husband because I was working on being un-tethered when you bounced into my life on the dance floor of the Aubergine. I wouldn't have said husband because I was trying not to find Mr. Right, or even Mr. Right Now.

Would I have put words to the generous future you'd give to me? No.
I still, being here, in it at this instant, find words ill-fitting and uncomfortable.
What I didn't know then, was that you wouldn't date me to fix me up, to doctor my wounds, to be a cure for my soul's fears. I didn't know you'd date me asking for anything more than being the naive college girl pretending to be brave. I didn't know you'd hold patient and steady as I flipped and flopped and gave us -as a potential relationship- a hard time.
But you fixed me up by making a quiet, safe space for me to grow. You allowed my wounds to be doctored by a grand God. You let my soul seek its own salve for the chaos of life. And, in being there, patient and present, you've done a work on my heart.
Not only do I love you, but I love who I am because of you.
Yours forevermore,
am
- - - - - - - - - - - - - - -
Monday, May 25th
The topic:
A Place of Peace
- - - - - - - - - - - - - - -
And without further fuss, the links for April: