Welcome to you, to you and to your words today.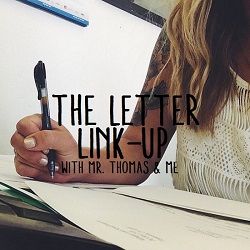 This letter is part of
The Letter Link-Up
. They are written to remember mundane moments that would otherwise slip away, to hold tight to him, and to remember how life looks right now at this very moment with the chance to shed light on your heart.
While my letters documenting moments within our marriage before children for our children because they won't know us without them, you are allowed to write your letter to anyone, on anything with the prompt being simply a loose and suggestive starting point.
- - - - - - - - - - - - - - -
Dear Jason,
Someone once said to slow down and savor this moment. It was probably at a wedding or a baptism or birthday party. But they said it and then told everyone to breathe it into our lungs and let it be a part of our heart.
As we laid in bed for a slow Sunday morning washed over in the dark of night and dawn's early light, I ran my fingers through your blonde hair. I was surprised at how thick the hair felt though we always agree it's thin. I twisted it between my fingers impressed with the softness of the strands. I wanted to see the yellow hue of it, something the sun and genetics afford you so graciously. And it was then I heard that someone from long ago who said, savor.
I hear it like a chant: savor, savor, savor; all beautiful and comforting. I lay there hearing your breath and I remember the way I've dreamed of silver hair, wrinkled skin, simple hand holds on the back porch swing of our retirement home. I've dreamed of traveling the world, near and far, with you by my side. I've dreamed of the grand-kids that will fill our home with noise and our hearts with love like we've never known. I have dreams for us.
But we've learned that our dreams don't necessarily translate to reality. We've learned loving doesn't always mean living to see dreams turn out. And in this learning process, we've come to understand how to savor. We've stopped worrying about tomorrow and started loving today. And, it's in this groove, I can't wait to grow old -even if old is younger than we dream.
May our hearts always dream of one another,
am
- - - - - - - - - - - - - - -
The Prompt for April:
To Say I Love You
And it'll go up live on:
Monday, April 20th.
-
- - - - - - - - - - - - - -
And now, the turn is yours: