Welcome to you, to you and to your words today.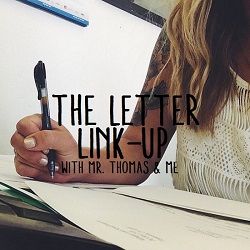 This letter is part of The Letter Link-Up. They are written to remember mundane moments that would otherwise slip away, to hold tight to him, and to remember how life looks right now at this very moment with the chance to shed light on your heart.
While my letters documenting moments within our marriage before children for our children because they won't know us without them, you are allowed to write your letter to anyone, on anything with the prompt being simply a loose and suggestive starting point.
- - - - - - - - - - - - - - -
We've always loved dating. From the first sushi dinner taking fish and rice rolls off small, moving boats to our latest date at our dinner table with wine mimosas and chocolate chip waffles, we love dates.
In college, Dating was frat parties in shady bars and small houses, it smelled like cologne, tasted like salty, sneaky kisses. Dating was a boy inviting, a girl obliging, dressing in absurd costumes like a dynamic duo does. Dating met in parking lots to load on buses, dance on crowded dance floors, share cheap beer and expensive cocktails.
In college, Dating swiped dinner on my food card, walked across campus fingers knotted, waited outside lecture halls in sunshine or rain. Dating wore the latest formal tank, surprises with serenades of "Wonderwall" in the campus' largest dining hall, provided comforting kindness in a university of strangers.
In Marriage, Dating is different, simpler and delightful. Dating doesn't feel required to curl hair or spritz cologne -though Dating does in the name of romance alive-, Dating isn't worried about impressions or awkwardnesses because Marriage is a fan of comforting affections. Dating isn't marled in preconceived notions and guesses about intentions.
In Marriage, Dating is about flirtations in our language, pinching butts in busy restaurants, butting knees during church's prayers. Dating smells like clean sheets, ornamental garlic in the front yard. Dating smells like dusty on the air above the trails at our feet. Dating shows up, excited and comfortable with greasy hair promising rewards of craft beer.
Dating is about you and me today, tomorrow, and always.
I dated you then. I'll date you now.
I'd go back and date you all over again.
May this Dating always be our favorite friend.
He knew what He was doing when He made me for you,
- - - - - - - - - - - - - - -
For March's link-up:
Monday, March 23
The topic:
On Growing Old
- - - - - - - - - - - - - - -