Welcome to you, to you and to your words today. It's the first rendition of The Letter Link-Up and we're glad to have you.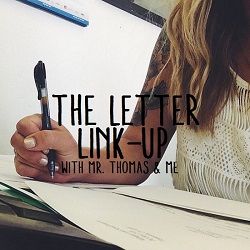 This letter is part of The Letter Link-Up. They are written to remember mundane moments that would otherwise slip away, to hold tight to him, and to remember how life looks right now at this very moment with the chance to shed light on your heart.
While I am spending my letters documenting moments within our marriage before children for our children because they won't know us without them, but you are allowed to write your letter to anyone, on anything with the prompt being simply a starting point.
- - - - - - - - - - - - - - -
Dear Jason,
We've had odd weather this year. Weather marked by weekly rains and bone deep coldness. We've sat at dinner and remarked on how thankful we are for flannels and heaters and living in California where it really isn't that cold.
And then I wonder, when did we start talking about weather? Because we all know it's either an awkward cocktail party or a dried up marriage that leads to commenting on the forecast and it's implications for the next for days.
But then, the weather did the greatest of things:
it brought snow.
In the middle of the night, so early on the morning of December 31, 2014, I woke you so we could admire the white blanket outside together. You were groggy with the fog of sleep still thick on your soul and I was ecstatic to be rewarded with a white landscape after spending hours of my night waking instead of sleeping.
It was New Year's Eve. We knew the engagement was coming. The sparkly ring sat beautifully patient for weeks before the set day. And then snow fell. And he bended his knee into the smallest of snow drifts as flakes flurried around them.
And we all celebrated old love made new as it was covered in a million unique flakes and in a diamond ring. You were thrilled because you love him like your own brother, because you love her and her addition to the family, because you are the penultimate of wedding goers.
Standing outside the best breakfast joint in town, listening to your enthusiasm about their upcoming nuptials, I saw my groom there. I saw you as I did three years and three months ago, as a groom relived from planning, washed over in Hawaiian sun and wedded bliss. And I took it all in again, the ring, the engagement, the wedding, the honeymoon, the first fight, the first Christmas, the anniversaries, the dog, the vacations, the house.
Like our California town covered in white snow, our marriage was magical all over again.
Thankful always to be drinking life in with you,
- - - - - - - - - - - - - - -
And now, your turn:
- - - - - - - - - - - - - - -
For February, the link-up date is Monday, February 23rd.
And the topic: On dates and the Like.