Interrupting the regular (three-day-a-week) posting schedule with this special little post and announcement for ya'll.
This grainy frame was snapped just after midnight on January 1st, 2014.
The other evening
Juliette
and I were talking about how 2014 met, exceeded, and failed our expectations. I got to thinking about how being
B.R.A.V.E.
meant a lot of things for me personally and maritally and how much I feel like I've grown in the madness of the year. I realize I'm proud of 2014. So, please grant me patience while I brag a bit:
I blogged about hard things and silly things and life things and food things.
We bought a house (which was cool) and then remodeled it (which was crazy) and then made it the #ThomasHouse2014 (which we love).
I made friends and lost them.
We worked and worked and worked and it paid for a trip to Costa Rica.
I launched Milking Stool Ministries, enjoyed it, then got worn out and stopped.
"Dear Jason" marriage letters became verbal Polaroids of our marriage each month.
I finally wrote the book that I've been dreaming about for two years. Draft one: done.
Hazel became even more spoiled and beloved.
Jason broke the garage door and yet we won.
Mo.
Jason ditched my fun car for a mom car and I fell in love.
The reading bug bit me again (thanks to Semi-Charmed Kind of Life) and I've loved every letter of it.
We started taking coffee dates and ya'll loved it almost as much as I do.
Thank you for sitting through my 2014 recap with so many days left to go. But it's with a purpose. Because, you see,
Juliette
and I continued to talk and were talking about 2015 and what it might hold. It's like those presents under our Christmas tree right now, wrapped and beautiful with a bow, promising goodness and surprise.
And so, the fun part that involves your participation: on December 29th (A MONDAY) we're going to host a link-up. A fortunate link up full of fortunes for the New Year! T
These can be personal predictions or pop culture or sports or, well, really you can predict anything (except that I am going to have triplets or quadruplets or any amount of babies in a quantity larger than two because that is TERRIFYING TO THINK).
So, December 29th. Put it on your calendars. AND THEN JOIN.
Here's a button for you: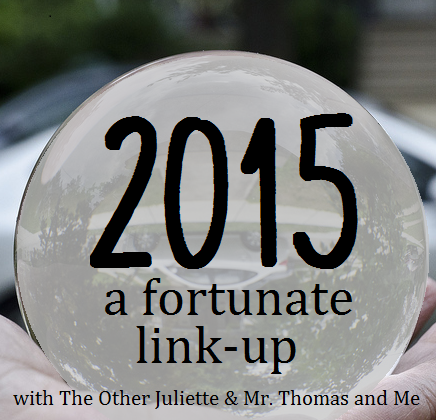 This is Zoltar. He is the king of giving out fortunes. So when you're struggling to come up with something, wrap a towel around your hair and put lasers in your eyes (just kidding) and you'll surely have all the answers in the land.
But really, do you remember that movie
Big
with Tom Hanks and Zoltar? Because it was one of my favorites as a kid but now I wonder if I could go back in time (like a reverse of the movie) and be a kid again because of a Zoltar who fortunes me at a fair.
See ya'll on the 29th!