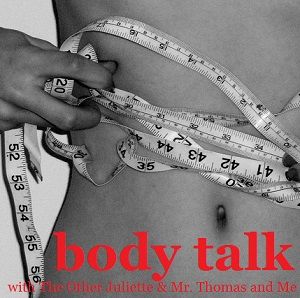 We're spending the day talking about our bodies (not in the TMI sort of way) and health and the way we feel about ourselves because, well, we all have the feels when it comes to weight and curves and all that jazz.
Go ahead and steal that button up there for your post. Then share your links at the bottom so we can enjoy all the conversation about our hot bods.
This is one of my favorite pictures with Jason. Dear to me because we're happy, sun-kissed, healthy.
We just left Macy's where we bought Jason some new digs for his cousin's wedding that match the form-fitting dress I can't believe I'm going to rock simply because he says I look sexy in it. We're at a local bar, enjoying drinks, watching college baseball (which neither of us care even remotely about), sharing a trio of tasty, mini desserts. We're sitting side by side laughing about only God knows what while business men talk business next to us. We're probably a little bit annoying -or at least, I'd find us annoying if I was being businessy and these two kids next to me were being flirty.
I've posted this picture on Instagram and Facebook, made it the background on my computer at work and home, set it as the lock screen on my phone.
It's a favorite.
The morning after this picture I ran with my mom, like usual. I came home and stripped out of my sweaty clothes and hopped on the scale in front of our closet mirror and I sighed. That number, again, that number. I sighed and pinched those little handles of love on my hips, turned to the side and took in my "pooch" as I so sweetly call it, and sighed again. I sigh when I see that dress -form-fitting and sexy- hanging behind me in the reflection because it's tight, it's sure to hug all the curves, it's intimidating.
I pout silently, internally. I pout because I want to eat like him, drink like him, not worry about my body like him.
I shower, dress, make myself up. I go to work, I do my professional thing. I get an email. An email with a list about hard bodies and such. An email that I'm sure I haven't signed up to receive. But I read it. And it says one mistake women make in dieting is tying emotion to eating. And I remember me, frowning into the mirror, upset because I'm bloated, in love with the picture from those blissful bites and moments in the bar.
Emotions -hot and cold, up and down, happy and sad. I resolve like
Alicia
. I tell myself no more.
I recognize that there's purpose.
Purpose in my running, in my eating, in clothing, in confidence. That being purposeful is more important than being perfect.
That I'm proud of my purpose in my marriage being more important, most important than being perfect. Purposeful in my choice to be his, to date over desserts and drinks, to wear the tight dress because it's sexy.
This is one of my favorite pictures with Jason. Dear to me because we're happy, sun-kissed, healthy. Healthy that's more than just clean eats, protein, vitamins. Healthy that's full of joy, spontaneity, life being lived and loved.
And finally, your turn.