I was thrilled when I realized Mr. Thomas and Me had an audience and, in having one, we could begin offering sponsorships. In doing so, I would be taking a step to being bigger, better, more blogger-ful. Everyone's doing it, I told myself. So, I started. I created spaces, fees, perks and the like. Everyone's enjoying themselves, I noticed, surely I will too.
Except I didn't.
Offering sponsorship meant seeing the sweet souls who'd invested their money in our space, my dedication to grow them, my promise to provide exposure. I wanted to do everything better than good, the best. I wanted to know I was pushing readers in their direction, creating new conversations and audiences in their inbox. But I couldn't measure it all. I couldn't hack being more dedicated to my advertisers than to my writing wants, whims, and needs.
Be it me, the readers, or them: I felt bad.
Over the last year, I've bought twenty different ads on twenty different blogs with twenty different promises. Throughout that time I've found what I love, what works for my space, what success looks like and what feels like a failed partnership. Feeling success and failure as a sponsor, I grew a sponsee (is that what it's called?) complex. A complex that said better, faster, stronger. Offer more, more, most. And, so began the process of never enough.
More, more, most. Further, farther, farthest.
I dreaded the organization of it all -tracking who got their welcome email, who needed a thank you for purchasing email, what this month's grateful for you buying, come back soon code would be. I was exhausted trying to track who was in line for social media mentions, when I was going to get the interview questions back, how often was too often to share a new sponsor. I worried about my output -how many posts per week, what if my content takes a summer-time dive, can I just take a week off for goodness sake?!?
The light flickers on: it is me, I hate it.
But everyone else is having fun, so what's wrong with me? I felt weird like I couldn't, shouldn't say no more. I felt guilty stepping out of the game when it felt like I had just stepped in. I didn't want to spend my hard-earned sponsor money on ad space, I wanted to spend it on me. I felt forced to write, to keep in my niche, to shy away from this or that in the name of brand and continuity. I found myself more concerned about the advertisers than my readers.
Turns out I'm a writer (sort of a blogger), not an investment.
And the fun returned. Late May I said goodbye to my last sponsor spot and hello to freedom here. And for June, I didn't worry once about who I needed to plug, where I needed to shout out, how my writing would lead to other's spaces. The removal of pressure reminded me that I blog for my love of words and inspiration and people, not for love of money or numbers or the masses.
Moral of the story: do you.
Whatever that means for ads, for sponsoring, for your space. Anything otherwise isn't fair to you, to your readers, to your inspiration. Growing up my Mama said, "If everyone else ran around the block naked, would you?" The answer: no.
- - - - - - - - - - - - - - - -
ALSO, tomorrow, Thursday, July 24,
Juliette
and I are going to be hosting a little link-up.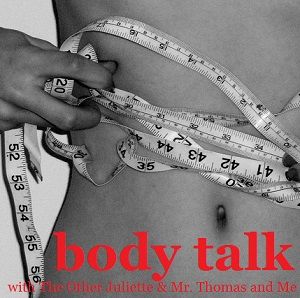 We're talking bodies and confidence and self-esteem. We're talking weight and frustration and exercise routine. Basically, we're talking anything that's got to do with your hot bod. So, steal that button and join us because it's Humpday and you know you're short on post ideas and all those things.