Welcome to another edition of
Doubt&Devotion.
Kate from
The Florkens
and I are so glad to have you here, sharing your heart, and engaging in conversations about doubt, devotion, and all that's in between.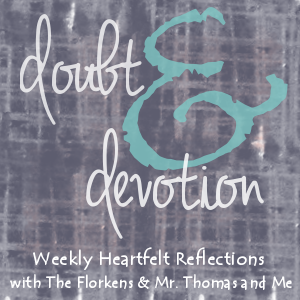 You are invited to join us every Sunday for some talk on faith, religion, any and everything that lies heavy on your heart. We'll both post about our current struggles then at the bottom we'll invite you to join in the conversation either with a post of your own or in the comments section.
Our link-up goes live today!
Oh how we're thrilled to have you.
- - - - - - - - - - - - - - -
Puppies. Cars. Babies. Leather. Shoes. Carpet. Homes.
We love the way new smells. In fact, we love the way it looks and feels. Also what it means.
When it's time for a re-brand, it's about getting a new look together. It's redefining oneself, realizing there's a new or altered mission around here, displaying that through new.
Spring's awesome. Why? Because new life. Baby birds, rose buds, seedlings, fresh ground.
I know we're deep into spring. So deep, in fact, we're almost in summer. But lately there's so much freshness in our yard and our neighborhood and our city that I can't stop thinking about the beauty of spring.
Sometimes I wonder why spring is so beautiful. Then I remember in the moments of blooming roses, fresh green grass, and babies. It's all new and bright and lovely. It's refreshing.
Sunday's the beginning of a week that's new. It's new -right now. Sunday is Spring. And with Spring, let's focus on renewal, invite that freshness that we love about Spring to characterize our week, and bask in the blooms all around us.