Welcome to another edition of
Doubt&Devotion.
Kate from
The Florkens
and I are so glad to have you here, sharing your heart, and engaging in conversations about doubt, devotion, and all that's in between.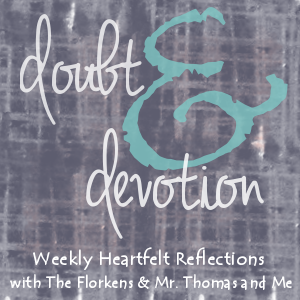 You are invited to join us every Sunday for some talk on faith, religion, any and everything that lies heavy on your heart. We'll both post about our current struggles then at the bottom we'll invite you to join in the conversation either with a post of your own or in the comments section.
Our link-up goes live today!
Oh how we're thrilled to have you.
- - - - - - - - - - - - - - -
"I realize that basketball is just a platform in order for me to inspire people and I realize that."
- Kevin Durant
- - - - - - - - - - - - - - - -
Soapbox. Platform. Dissertation. Lecture. Stage. Concert hall. Basketball court. Book. Blog.
Good news is: we've all got a platform to use for good, bad, and the in between.
Kevin Durant talked about blogging in the midst of his MVP acceptance speech. He talked about blogging, jobs, sports, coffee dates. Not directly, he didn't. But indirectly he did. He said, we have influence in our space, in our circumstance, in our zone. Famous or not, basketball or blog, girl or man.

Influence means we have the opportunity to create community.

Upon which our community is created determines our scope, our sphere, our story. We can establish community on a foundation of mutual respect or interest in sports or love for crafts or hate for being on "my internet". Within that community there becomes conversation. Conversation about devotion and doubt and daringness and dreams. We have influence which sparks community which flares into conversation.

So, where's your platform?

And, most importantly, how are you going to use it?