Welcome to another edition of
Doubt&Devotion.
Kate from
The Florkens
and I are so glad to have you here, sharing your heart, and engaging in conversations about doubt, devotion, and all that's in between.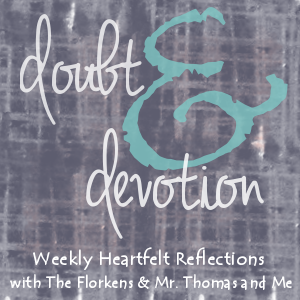 You are invited to join us every Sunday for some talk on faith, religion, any and everything that lies heavy on your heart. We'll both post about our current struggles then at the bottom we'll invite you to join in the conversation either with a post of your own or in the comments section.
Our link-up goes live today!
Oh how we're thrilled to have you.
- - - - - - - - - - - - - - -
It's Father's day. A day that I've decided I will not let be hard and sad and too full of missing because, well, that's not a fun way to spend any day. I made that decision not to be fell of sad so long ago. I told myself I won't wallow in my missing or lacking or any such emotion.
But today, I miss him. I miss his laugh, his dry humor, his tough love, his brute strength. I miss beating him in sprint races because I really was faster than him. I miss losing at cards because he was cheating. I miss butting heads because we both know how to do it the right way. Today, I miss him.
But today, He's here. He's here and reminding me of how much he lives in me. He's here and filling me with strength and dignity and a sense of humor that'll go beyond all the sad. He's here and He's silently counting the tears that have been cried, collecting the little pieces of my heart that have chipped away, healing the wounds that feel unfix-able. Today, He's here.
While I desperately want him, He's here. And for today, I'll miss one while feeling cherished so sweetly by the other.
- - - - - - - - - - - - - - -