I might have started celebrating Cinco de Mayo early on a date at the wineries with a blogger turned friend (Yes, I'm still shocked that stuff happens in real life). That leaves me with a weekend hangover (not from the wine, I think) and that Monday dose of feeling not-so-creative. Until I remembered how the
other, hotter, more important, less desperate Juliette
talked about how she's doing things she just never thought possible.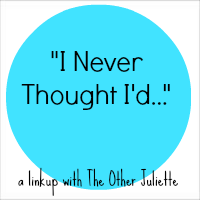 And then I remembered how last week I was busy pushing our lawn mower with all my might (because I happened to forget to pull the throttle on the self-propel helper majigger that moves that gosh darn machine for me) and thinking, gee, I love doing this.
But who in their right mind loves to mow their lawn?
Maybe my mind isn't quite right (would we be surprised) but love the grass, the workout, the outdoorsy nature of it all. Plus when I'm done I can sit in the backyard with a sweet tea and be so proud of myself.
That thought of unexpected love for all things lawn mowing got me thinking about all the things I didn't ever expect for myself. Hence the list that follows.
|| be madly in love with mowing the lawn. Seriously, the obsession is real.
|| own a home at 25. Yes it was a dream, but dreams don't always become reality.
|| go five days without a "traditional" hair wash.
#dryshampsforthewin
||
wear red lipstick
. In fact, wear lipstick in general.
|| be honest about my dreams to write about all. the. things.
|| sport a half sleeve and nose ring and love every ounce of attention they get -even the negative.
|| own my shit, take the blame, be okay with accepting fault. (It's freeing ya'll)
|| find a best friend in my mom and give grace to those who don't understand on our relationship.
|| marry a man who encourages my fierce need for independence while serving as my sounding board and comfort at the end of long, exhausting days.
||become obsessed with Hazel who's my copilot, shadow, and cuddle buddy.
|| share matching tattoos with two men -Popsicle and Bubba.
|| possess the confidence to take and post #selfie gone #ootd more days than not.
|| be pushed to write by my dad dying. I always thought it'd be his constant encouragement, tough love, and questioning that would do it.
|| grow a successful garden three times over.
|| master the art of perfectly frying an egg.
|| meet new people online. Then love them as dear friends off.
|| go to a
book release
and cry at the glory of the memories from that night.
|| struggle going to church. But choose to push through and try finding home there again.
I also never thought I'd be linking up, or sharing this useless information, a month later than everyone else, but there's a first time for everything. Slash, Mondays are always the best days to try something for the first time.