Welcome to another edition of
Doubt&Devotion.
Kate from
The Florkens
and I are so glad to have you here, sharing your heart, and engaging in conversations about doubt, devotion, and all that's in between.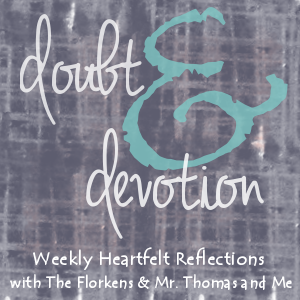 You are invited to join us every Sunday for some talk on faith, religion, any and everything that lies heavy on your heart. We'll both post about our current struggles then at the bottom we'll invite you to join in the conversation either with a post of your own or in the comments section.
Our link-up goes live today!
Oh how we're thrilled to have you.
- - - - - - - - - - - - - - -
I worry about every little thing. From what shoes look best with my outfit to what the weather's going to be like the eleventh day from now, every little thing. I worry that I drink too much wine and coffee and too little water. I worry that I'm doing things wrong, that God's in Heaven frustrated with
wrong
I am, how off my intentions and effort seem to be.
The worry about being
wrong
can be so strong that I'm paralyzed in action or, worse, I avoid doing anything. My frustrations with my frozen-ness left me abrupt and short -surely unbecoming of me and my faith. Then, a truth came crashing down like an anvil from the heavens that changed my perspective.
If we shifted our goal from trying to be as great as Jesus to loving as Jesus did we'd be less stressed about our small choices and circumstances and become more focused on loving others.
You. Me. Love. Jesus. I've not once seen an act done in love that's unbecoming. Not once. So, this week shall be a week of living in love with those around me and out of the love He has for me.
- - - - - - - - - - - - - - -