Welcome to
Doubt&Devotion.
Kate from
The Florkens
and I are so glad to have you here, sharing your heart, and engaging in conversations about doubt, devotion, and all that's in between.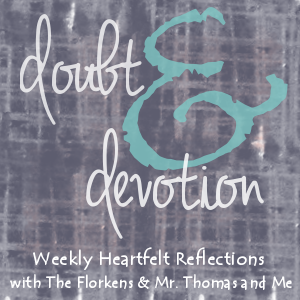 You are invited to join us every Sunday for some talk on faith, religion, any and everything that lies heavy on your heart. We'll both post about our current struggles then at the bottom we'll invite you to join in the conversation either with a post of your own or in the comments section.
Our link-up goes live today!
Oh how we're thrilled to have you.
- - - - - - - - - - - - - - -
I sat next to an atheist in art class in high school. Then a two week trip to Italy arose and I went to Italy on an art trip with an atheist. I was a God-believing, bible-loving girl. Despite our fundamental differences in belief, he and I gravitated towards one another. Opposites attract -I believe it. I didn't want to date him -which was saying a lot for my hormone-raging, boy-crazy teenage self. But, he just had this thoughtfulness about him that I needed to understand. My guess, he'd have said the same.
In the heart of the Vatican City, we started a conversation that endured many months until summer break slipped in and split up our neighborliness. The conversation about my faith and his disagreement with it.
Once he said,
Amber, how do you know? Do you always know?
Quite honestly, I told him,
No. I don't. I don't always knows. I don't hardly know. But I believe. And for me, that's enough.
He said,
Amber, one of us is wrong.
And I said,
yes, one of us is wrong. And if it's me, I'm proud to have lived loving and following a faith that's hard and yet rewarding, that's difficult and yet comforting, that's encouraging and yet challenging.
He said,
You know.
I don't think he meant I know all the things I believe -I don't. Or that he agreed with my beliefs -he didn't. But he knew that I was sure of my path -I was, I am. And, for us, that was enough.
- - - - - - - - - - - - - - - -
Did ya'll see the
announcement and introduction
for the new series on Mr. T and Me? Because you, dear readers, are invited not only to join, but to glean wisdom, bare fruit, speak truth with me.
- - - - - - - - - - - - - - - -