Welcome to another edition of
Doubt&Devotion.
Kate from
The Florkens
and I are so glad to have you here, sharing your heart, and engaging in conversations about doubt, devotion, and all that's in between.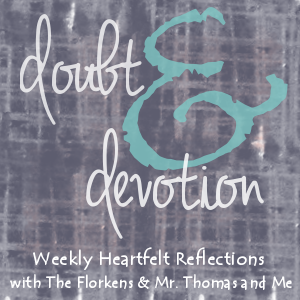 You are invited to join us every Sunday for some talk on faith, religion, any and everything that lies heavy on your heart. We'll both post about our current struggles then at the bottom we'll invite you to join in the conversation either with a post of your own or in the comments section.
Oh how we're thrilled to have you.
- - - - - - - - - - - - - - -
Why do bad things happen to good people?
Or conversely, why good things to bad people?
- - - - - - - - - - - - - - -
Dementia. A decidedly bad thing. My Popsicle. A damned good person. The diagnosis. Bad, hard, sad. My family. Good, workers, trying, but good -by all "standards".
Why did this bad thing happen to us, good people?
Or conversely, why didn't it happen to someone else, someone bad, someone mean, hurtful, unproductive?
- - - - - - - - - - - - - - -
I've heard it expertly explained, wonderfully "answered", and poorly addressed many times. Without seminary and any formal education, I write from my own deductions and experiences. I write candidly and randomly about the thoughts that follow, attempt to answer, drive along the same lines as said questions.
I don't think God "does" things to people. I don't think He sits on His Heavenly throne looking down to see who needs justice, wrath, or a miracle. I don't think He lies in wait to punish us for bad or reward us for good.
I think He decided to take a step back and give us free will.
And while stepping back, He realized we need some parameters. And He gave them. He gave them specifically to Adam and Eve in the form of instructions about a certain tree in the garden long, long ago. Instructions that were broken and, in being so, changed the world as we knew it. That created brokenness -a trait that remains very alive today.
I do think God sits on His Heavenly throne watching us muck it all up and suffer seriously from the consequences, just as a parent watches their teenager -knowing it's vital to learn every action has a reaction. I do think it breaks God's heart to watch us lose ourselves in the heartache and heart break of our culture. I do think He weeps for His children as we spin our wheels with all we've got to no avail.
Bad things happen to good and bad people. So do good things.
- - - - - - - - - - - - - - -
I think it's more apparent to us when someone doesn't get what they deserve -good or bad. You win some, you lose some, and the whole time, God's there. I think that's the point in all this bad-good-happenings conversation: that He's there, sustaining, everlasting, incredible.
- - - - - - - - - - - - - - -
Dementia is bad, but He's good.
He's here, sustaining, everlasting, incredible. He's good.
- - - - - - - - - - - - - - -