Welcome to another week of
Kate from The Florkens and I are so glad to have you here, sharing your heart, and engaging in conversations about doubt, devotion, and all that's in between.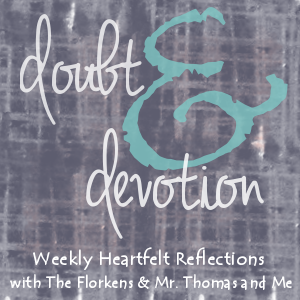 You are invited to join us every Sunday for some talk on faith, religion, any and everything that lies heavy on your heart. We'll both post about our current struggles then at the bottom we'll invite you to join in the conversation either with a post of your own or in the comments section.
Our link-up goes live today!
Oh how we're thrilled to have you.
- - - - - - - - - - - - - - -
We all know the stories of Jesus taking a handful of loaves of bread and turning them into provisions for thousands. It's part of the story shared in Sunday school.
He preaches for days.
People listen with rapt attention.
Jesus realizes they might be hungry by now.
So he provides for each of them though his supplies are minimal.
They eat and there's extras.
They were satisfied.
They listened, they're hungry, he provides, they eat and
they are satisfied
.
He's not here preaching to us in literal, physical ways. But He's here, present, aware of our needs. He sees our hunger and our thirst and He longs to fill those needs, satisfy those appetites. But, what am I hungering for?
Lately, it's more of Him. Pouring through His words, reading memoirs about faith, hungering for grace and love and mercy. But it's also more clothes in my closet, more money in my bank account, more beautiful, decorative things.
Last week I talked about being satisfied with my friendships. And I meant it. But, in being satisfied there, I realize I'm hungry, oh so hungry, elsewhere. I guess, in the majority of life, I'm hardly satisfied. Hardly. I'm sure it's about contentment, about counting one's blessings, about forgetting the comparisons.
But, it's also about focus.
Where am I looking? For His preaching for days?
Am I so busy being in His presence I'm no longer looking about for something, anything?
Because that state of rapt attention on Him shall bring me His blessing, shall ensure He is watching over me, shall bring provision.
And then I wonder: what is today's equivalent of that bread and fish?