Welcome to the first edition of
Doubt&Devotion.
Kate from
The Florkens
and I are so glad to have you here, sharing your heart, and engaging in conversations about doubt, devotion, and all that's in between.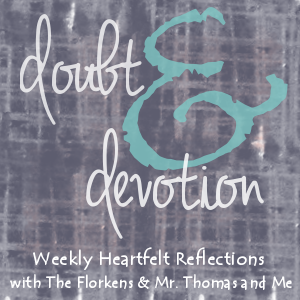 You are invited to join us every Sunday for some talk on faith, religion, any and everything that lies heavy on your heart. We'll both post about our current struggles then at the bottom we'll invite you to join in the conversation either with a post of your own or in the comments section.
Our link-up goes live today!
Oh how we're thrilled to have you.
- - - - - - - - - - - - - - - - - -
I always get weirded out by those people who drop to their knees during worship at church. Like, we'll all be worshiping and enjoying the beat of the music, my heart will be in a place of focus on Him. And then, they drop to their knees. I immediately snap right out of the moment I'm sharing with Him and stare at their Floorfest. (Immature, yes, but it's truth)
It fascinates me the way others can feel so moved by Him they feel drawn humbly to their knees. And then, the other day, it clicked. I realized that their kneeled position illustrates an intense commitment to humility. And humility says something so beautiful about faith.
Our ability to humble ourselves defines the depth of our faith and trust.
Humbling moments allow our spirits to bow to Him. And, sometimes, as we bow to Him, we are also bowing down for those around us to see. Allowing others to see you in an emotionally vulnerable position is trusting in Him to protect you -be it from harsh words, emotional exploitation, or spiritual stresses.
So, next time when they kneel and I get distracted, I'm going to let myself be inspired instead of immature. Inspired to live a life for Him that abandons my worries about the opinions of the people around me -whether in person or online- and centers solely on Him.
Though, you'll most likely never find me kneeled in quiet submission, I hope a humility and kindness seeps out of my writing -and my attitude- in ways that point so boldly to Him.
- - - - - - - - - - - - - - - - - -