Welcome to the first edition of
Doubt&Devotion.
Kate from
The Florkens
and I are so glad to have you here, sharing your heart, and engaging in conversations about doubt, devotion, and all that's in between.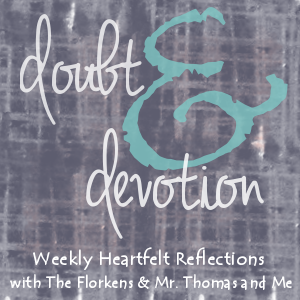 You are invited to join us every Sunday for some talk on faith, religion, any and everything that lies heavy on your heart. We'll both post about our current struggles then at the bottom we'll invite you to join in the conversation either with a post of your own or in the comments section.
Our link-up goes live today!
Oh how we're thrilled to have you.
- - - - - - - - - - - - - - -
So we're ten days into Lent and I'm coming to understand, to lean into, to be refreshed by God's goodness. This comfort comes in ways different and more profound than I've enjoyed in many years. But, let's do a little, errrr, a
big
, flashback.
The Church I grew up in -realize it's Church in the Big C Church way, not in a single specific church- spoke often of the way sin ruined me, the way it marked me, the way I couldn't escape its reach because of my flesh.
Many of the sermons left me with a sour taste in my mouth, a taste that said I'm too mucked up with sin to be cherished and loved by Him. I wanted to know He loved me deeply and sincerely, but couldn't get over hearing I'm unlovable.
As a Christian who believed in His greatness and mercy, but also in my sin and markedness I came to a single realization.
I'm a walking contradiction
defined by the
chasm living in my core as my flesh burned for sin but my spirit fought to seek Him.
I believed those lies about my unworthiness for many years
.
I believed I wasn't His out of love, but out of the obligation He made thousand of years ago.
A promise to save those who were so bold to ask.
And, that asking, I did. After the confession, repentance, asking, I attempted to bask in Him. To rest in it, to find comfort, joy, peace. But that just didn't happen for me.
After many prayers, He enveloped me in His love.
Oh how He loves me.
I realized I was His, but couldn't shake those feelings of dirtiness.
Flash forward:
Back to me, today, 2014, almost 25 in my flannel pajamas, wrapped in a quilt and bent over my bible with the Naptime Diaries 40-Day Journal hoping to make up for the night I missed last night.
Usually, in missing a day, I'd see my imperfection and quit.
You see, my perfect-seeking soul doesn't like to do anything less than 100%.
And that was precisely where I was. He entered. Here: He came and met me.
He said, you are mine, imperfect but mine. You are cherished and loved by me, the God of Hope. And, I declined. I reminded Him I'm sinful, stained, and sour.
And He extended grace.
That's the part where I come in -changed, made anew, rededicated to the cause of seeking Him. I've gave myself grace in that skipped lesson and the practice of making it up. I allowed myself that slip and the accompanying clean-up.
I've found it challenging, but wonderful.
This Lent, I'm leaning into Him and the truths he speaks about the our relationship. I'm appreciating the way His goodness is mine too. The transformation of my life defined by sin to one founded on His greatness. It's beautiful how loved and cherished I am even when I don't love and cherish myself. He's gifted me a vast span of freedom in my faith and in doing so, I can be bold in worshipping Him with my life.