Welcome to the first edition of
Doubt&Devotion.
Kate from
The Florkens
and I are so glad to have you here, sharing your heart, and engaging in conversations about doubt, devotion, and all that's in between.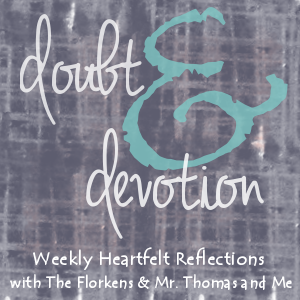 You are invited to join us every Sunday for some talk on faith, religion, any and everything that lies heavy on your heart. We'll both post about our current struggles then at the bottom we'll invite you to join in the conversation either with a post of your own or in the comments section.
Our link-up goes live today!
Oh how we're thrilled to have you.
- - - - - - - - - - - - - - -
"Believing in God is as much like falling in love as it is making a decision.
Love is both something that happens to you
and something you decide upon."
Marriage is a funny little thing. Or maybe it's a funny BIG thing. But it's funny nonetheless. It's that part of life that defines you, refines you, transforms you. It makes you look your best and your worst. Sort of like those skinny jeans I love so dear.

It's a choice. Again and again. A choice to be his, to say "I do", to love and be loved. A choice not always easy or natural. Like when a joke isn't funny but is, instead, hurtful. When you're sick and tired and he isn't. When works stressful and all you want is a stiff drink and a warm bath. It's a choice day in and day out.

It's a choice for which you are rewarded with memories, laughs, and, sometimes, fights. It's a choice to think not only of yourself but also of his wishes. It's a little less of you and a lot more of us. It's a shared office-craft room, bedding that suits the hot one and the cold one, not so many floral prints throughout the home.

It's realizing this beautiful thing called like isn't actually all about you. Instead, it's about him too.

Like marriage, so is faith. A choice to be His, to say "I will", to love and be loved. A choice not easy or natural. It's the realization you are committed to something beyond your own cause. And it's the reward of His love, mercy, grace.