Welcome to the first edition of
Doubt&Devotion.
Kate from
The Florkens
and I are so glad to have you here, sharing your heart, and engaging in conversations about doubt, devotion, and all that's in between. We hope to create a space in which the hard parts of faith can be talked about openly and honestly with no judgment or condemnation but instead engaged conversation.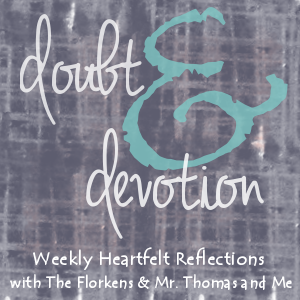 You are invited to join us every Sunday for some talk on faith, religion, any and everything that lies heavy on your heart. We'll both post about our current struggles then at the bottom we'll invite you to join in the conversation either with a post of your own or in the comments section.
Our first link-up goes live today!
Oh how we're thrilled to have you.
- - - - - - - - - - - - - - -
"Be merciful to those who doubt." -Jude 1:22
I grew up in church hearing and feeling that in order to be a good Christian, you must read the bible, not say bad words, and follow all of the commandments. I grew up hearing that it all just makes sense. I heard it made sense for centuries, for all those theologians and historically important leaders, and now it should make sense for me. I heard it made sense and I held onto those words as tightly as my little fingers would let me. I squeezed them hoping the tighter my grip, the greater my belief.
But, it didn't all make sense. In all truth, it doesn't all make sense even now. What makes sense is that I'm precious to God. So precious, in fact, that He saved me from a dark and dreary life separate from Him. What makes sense is that love makes the world go round. His love. Mine and yours, that's just a bonus -a beautiful bonus.
To address decades of suppressed wonder and questions, of fear that my curiosity would kill the Christian cat, of hating science and fact that needs no faith. And then a realization: I need mercy because I have doubts. Not just from other Christians, not just from you and from God, but from myself too. It is His love and my own mercy that allow me to give voice to those doubts. It is your listening ear and honest words that create a space for me to process and glean.
God-loving or not, life hands us big,clumsy, difficult circumstances that defy everything we know of Him and me and you. Making sense of the chaos is tricky enough, then add the layer of keeping faith and holding belief on top of it and you'll find a breeding ground for doubt.
It is what you do with your doubt that defines your heart. For years my doubt made me angry and frustrated, shaking my fist at God asking Him why He's doing this, why He isn't stepping in, why He doesn't love me enough to stop the hurts. Then, my angry arms got tired of being raised above my head and I realized it was my brain and my heart that needed more. More understanding of His goodness, more knowledge of His heart for me and the rest of the world, more encouragement and truth amongst the brokenness.
So, I put the anger away and made space for the doubts. I granted myself the mercy required to ask questions, to give a voice to the doubts, to wrestle with difficulties. And it's led me hungrily to His words for a glimpse of His heart and hope. It's torn me up in ways so deep and so good while pushing me to search for signs of His greatness instead of letting the days pass and blur in front of my eyes.
For now, I remind myself of my need for mercy and love and Him, I feed the hunger for wisdom while giving grace when anger rears it's ugly head, and mostly, I remind myself, it doesn't just make sense for many of us.