Welcome to another edition of
Doubt&Devotion.
Kate from
The Florkens
and I are so glad to have you here, sharing your heart, and engaging in conversations about doubt, devotion, and all that's in between.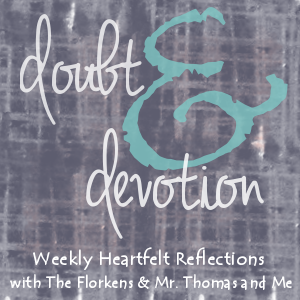 You are invited to join us every Sunday for some talk on faith, religion, any and everything that lies heavy on your heart. We'll both post about our current struggles then at the bottom we'll invite you to join in the conversation either with a post of your own or in the comments section.
Oh how we're thrilled to have you.
- - - - - - - - - - - - - - -
A little blonde girl, bedside on bended knee. Hands clasped tightly together as though it will ensure a more efficient delivery of her requests. Short quiet whispers, undecipherable to the rest. "Amen."
The first time I remember praying I was that little blonde girl kneeling, forearms atop my mattress, just like the Precious Moment dolls in my children's bible. Is this right? I wondered. Am I drooping my head just enough? How tight is the right amount of tight for my hands to clasp?
I remember being told prayer changes things. I remember thinking maybe one day I'd have something really tough going on in life that I'd get to cry out to Him. I hoped I'd do it the right way -boldly, honestly, deeply. And, like the child I was, I went along my merry way.
Having spent many years attending church, I found myself confounded by the ask and you shall receive aspect of prayer. I knew I hadn't asked for much and I felt thoroughly joyed by what I'd received, but why were there so many people struggling and begging for His help with no receipt?
Then, dementia struck. And I prayed -we as a family prayed- so many prayers -for mercy, for healing, for hope, for comfort, for joy, for peace, for answers. Some seemed so illusive. Some still do. There are days I cry out to Him for this disease to steal away Popsicle's life just so I can be sure he's no longer suffering. And, it feels like He can't hear me.
Maybe it's faith I lack or my heart is chasing its own plans and timeline or God's plan is bigger than my own. The bible says He's listening gently, gracefully, lovingly.
And, I believe it
. The bible says He has plans for my benefit and blessing, plans bigger and better than my own.
And I believe it.
But I do wonder: why won't He answer me?