Welcome to the first edition of
Doubt&Devotion.
Kate from
The Florkens
and I are so glad to have you here, sharing your heart, and engaging in conversations about doubt, devotion, and all that's in between.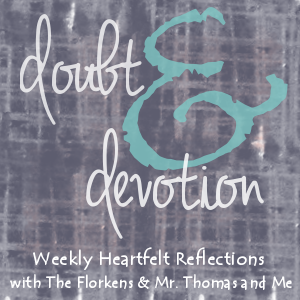 You are invited to join us every Sunday for some talk on faith, religion, any and everything that lies heavy on your heart. We'll both post about our current struggles then at the bottom we'll invite you to join in the conversation either with a post of your own or in the comments section.
Our link-up goes live today!
Oh how we're thrilled to have you.
- - - - - - - - - - - - - - -
This week a big announcement came from
World Vision
, an America-based Christian company that aids children in developing countries through child sponsorship. An announcement that made my heart pitter patter with joy. World Vision restructured their hiring policy to create a space for the
hiring of openly homosexual employees
.
(A revision since reversed, but a learning moment still valuable.)
Of course, as any big announcement begs us to do, the Christian community reacted. It reacted positively and negatively. It garnered excitement and new sponsorships while simultaneously breaking support and hearts of others. Reading through the many opinions, I was conflicted. Though I had my faith and my feelings, did I have enough biblical knowledge to begin to formulate words worth sharing?
It's simple, my feeling on the original revision. I was thrilled by this new space that was opened by World Vision. I believed in changing their hiring policy two communities together would come together. Communities that, to this point in history, really haven't experienced one another. Both communities bring beautiful lessons and overflowing baggage to the table. What better way to sift through such than together?

I've shied away from the conversations, the comments, the opinions because my theology is weak (at best). I don't have a watertight argument for or against the change or scriptural references to back up my thought process. So, I kept my opinions to myself.
Then I realized, it's not about me and my theology. It's about God and what I know of Him. I know I'm His child. I know you are too. I know gay or straight, He loves. I know black or white, He cares. I know doubt or faith, He's present.
While we're busy wishing we had exact answers, reading His word and wondering how to apply it the right way, trying to make all things relevant to our time, day, life, He's with us. We're attempting to talk it out as a God-loving family with some success and some fighting. The banter: it bothers me.
I feel like if we all love God so much, we shouldn't have such heated disagreement. People shouldn't get hurt. Judgment shouldn't abound. Fights shouldn't break out. But they do. And it makes me uncomfortable. Until I'm reminded we are all His children. Right or wrong, yes or no, hot or cold, we're His.
So, while we're all working honestly through this thicket of a crazy, broken world, I remind you: we're brothers and sisters trying our damnedest to make a Heavenly Father proud. May His love for us, our love for the family, and our pride in our name push us to seek new conversations, greater opportunities, a larger network of brothers and sisters.
- - - - - - - - - - - - - - -
And now, it's your turn.