My favorite way to start church posts is this: I grew up in church.
Mostly, I like to say that because I did. And because it made maturing my faith a challenge. It wasn't like I had a few years of doctrine to work through, a dozen church experiences to analyze, and a few Christian friends to think on... I had a library of church experience that overwhelmed every bit of my thought process. I didn't have little bits and pieces to organize and deal with before moving on to the next, but rather was attempting to organize all the parts into bigger parts and struggling.
I'm still struggling so deeply with the balance between all those childhood lessons turned youth group teachings turned adult sermons that taught me the "how to's" of church with my experience and opinions. A balance that tips back and forth over and over again more than it stands comfortably in peaceful rest.
God started to feel heavy, angry, and waiting in wrath. And for a girl who hates being less than perfect, such a God is frustrating. I didn't understand how His yoke was said to be light when I felt so weighed down, heavy, and burdened. I wanted to speak out, to beg for help in my wrestling, to bounce my rebellious religious thoughts off others, but that space wasn't available.
Then, I read
Evolving in Monkeytown
by Rachel Held Evans and her words created a safe space within my soul for exploration of His heart, conversations that asked Him hard questions, and time to wrestle with His word as well as those of others. In this time of hunting and seeking, I heard over and over of freedom in Him, of the way He longs for us to be children of light -not just in the bright, shiny sense, but also in the sort of light that is weightless and free. I made it a goal to achieve lightness, to see His light, and to put on the yoke that's light on my weary shoulders.
And I attempt to keep on keeping on in that free-in-Him way.
Over the last few weeks the dearest of dears, Kate from
The Florkens
and I have been emailing back and forth talking heart issues, faith questions, and spewing about the wrestling that we're doing with God, faith, religion, culture. It's deep, it's exhausting, it's beautiful. It's heart-warming to have a sounding board, to hear my sentiments mirrored and, at times, challenged. Mostly, I love knowing I'm not alone in my fight for faith.
Then, Kate got smart and said we must hold open a space for people to speak, challenge, wrestle, express. And, doubt&devotion was born. We've decided to create a link-up in our little (shared) corner of the interwebs for all that lay in the lands of doubt and being devout and the in between region.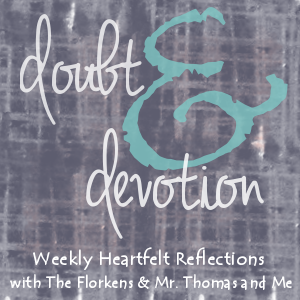 You are invited to join us every Sunday for some talk on faith, religion, any and everything that lies heavy on your heart. We'll both post about our current struggles then at the bottom we'll invite you to join in the conversation either with a post of your own or in the comments section.
Our first link-up goes live Sunday, March 2nd.
Oh how we'd love to have you.