Good morning ya'll!
I'm thrilled Ashten agreed to share a hard, but beautiful story of the way love has changed her life as the second post in the
Love Wins
Series. She'll prove to you the redemptive power of love in the hard and the beautiful. How the process is not at an "end", but is growing and challenging for her sweet soul.
- - - - - - - - - - - - - - - - -
Sitting down to write this is hard. I usually pride myself on my ability to be vulnerable in most of my writing but with this one my heart is conflicted with how much to share. There is a lot of pain that comes with this one; pain that I don't know how to express to those who know me best let alone to a cruel and sometimes unforgiving world.
The thing is I still struggle with forgiveness. And redemption. And how redemption brings forgiveness. And how to forgive. I struggle with how to move forward, how to trust again.


I have not had a hard life. I was raised by two parents who love each other, who loved my sister and me. We took vacations, we had holiday traditions and I was given many opportunities that others were not. I was raised well.
All happy stories do not have happy middles. Mine does not.
The heart is an interesting organ: it can break a million times, in a million ways, but never heals the same way twice. In the last two years my heart has shattered into what felt like a million unfixable pieces. I lost my identity, my direction, who I felt I was. I was drowning in grief; I was living in a shell of my former self. I scared the people who knew me best: the people who watched their vibrant, boisterous and silly Ashten turn angry, bitter and silent. Truth was I was scaring myself too. I just didn't know how to stop the cycle of sadness and anger in my heart.
Slowly, I started to find my way out of the darkness thanks in part to many people's unfailing love. As my heart began to heal, I noticed it was colder; harder and less prone to act with love. It's like I'm missing a piece that allows me to trust, allows me to open up to anyone, the piece that allows me to forgive. I was living with one foot in the darkness and one foot in the light. I was holding on to the anger, the bitterness and the grief because I had grown comfortable there.
I still struggle. Sometimes it's hourly, sometimes it's daily. Sometimes my struggle is silent, because I can't find the words. Sometimes I slip back in to bitterness, anger and my words become sharp blades that will cut anyone who steps in my path. Sometimes I just hug my dog, Warner, and wait for the moment to be over just so I can get to the next one.
In moments when I cannot go on, when I feel like I'm completely alone, I remember God does not give us anything we are not strong enough to handle. Love wins. For years, I didn't think I deserved love, or to be loved. Most days I still don't. But, I have people who believe otherwise, people who force love upon me when I don't think I will ever open that part of my heart again. People who remind me that after darkness comes light. These people are my safety net, my great loves and the missing pieces I lost when my heart broke so many moons ago.
God has made me strong. He knows my faith waivers. He knows I am not perfect. He knows I fall often, and without much grace. But, He is forgiving when I am not. He is redeeming when I find myself unable to find redemption.
He loves me when I don't think I deserve it and His love wins. And with that, I know I will not always be ok, but I am forgiven when I am not. I will be loved, always.
- - - - - - - - - - - - - - - - -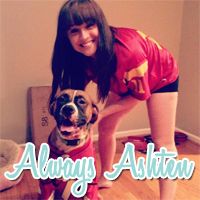 Speaking of love... Don't you feel that way about Ashten? Do yourself a favor and connect with her on one or all of these social media spots!