Four days of girl flirting. Hours of getting primped, worrying about outfit choices, and which chapter feels the same about you. Countless questions about hobbies, family, and your wishes for your future sisters. Early mornings and late nights leaving you to wonder who else among your fellow potential new members will join you in chapter. Then, an envelope with your name scrawled across the front.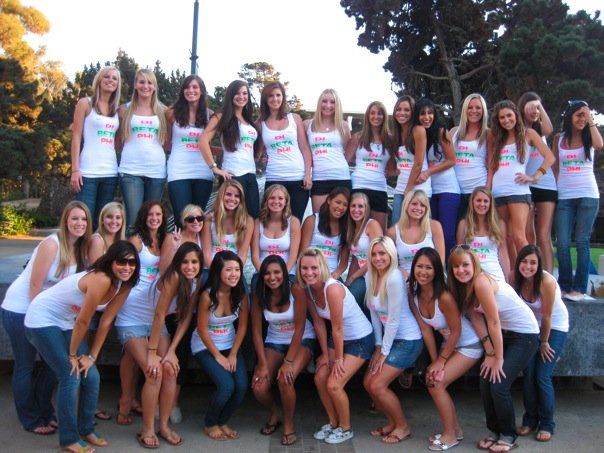 That's me -the short blonde bob front and center- nervous as hell because I was just offered a bid from 100 screaming girls sporting sparkly arrow posters, thrown into coordinating tank tops with thirty new pledges, and taught the sorority squat before I could catch my breath. I rushed. I joined the party. And I haven't regretted it one day since.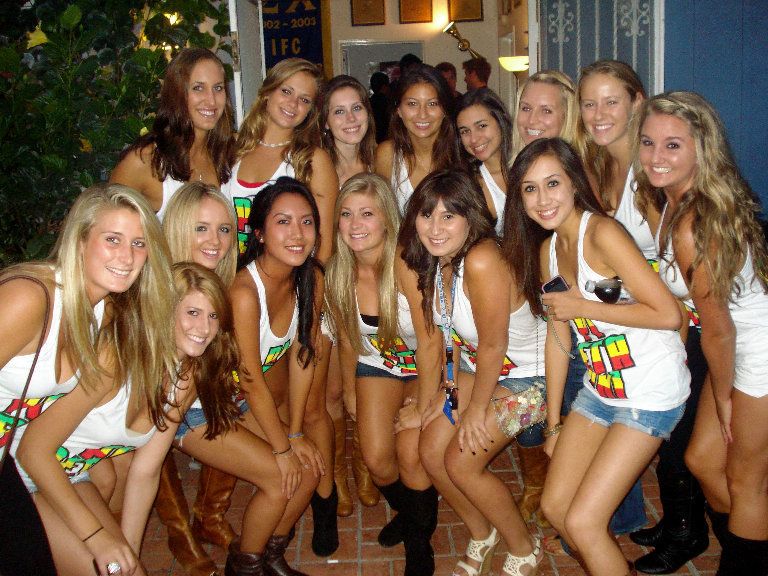 Yeah, I got asked more times than not,
"What's a good Christian girl doing in a sorority like this?"
I'm enjoying myself,
that's what
I'm doing thank you very much
. These girls quickly became the breath of life in my stressful college career. A breath I needed as things were falling apart with dad's health at home. My sisters offered an escape (and not one fueled by drugs or alcohol as the stereotypes might say) from the nagging responsibilities of growing up. Be it a costume party, a Whole Foods' trip, a Golden Spoon date, or a sweet conversation over, my introduction turned obsession, Pho, I knew I could always count on a moment for my mind to get away. (
Oh, and turns out we do eat, considering almost all of our hanging out happened over calories
)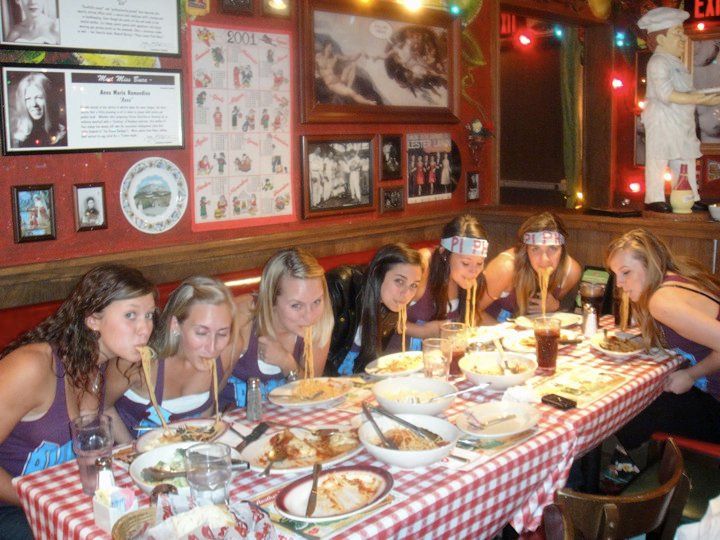 Then, I got a family. A big who taught me what it means to love. A woman who speaks truth into my life up to this very day. She's got herself a
blog
(seriously, drool over her cooking)... But more than that, she's got a heart that seeks God's goodness and grace, and she gets just that from Him, plus some.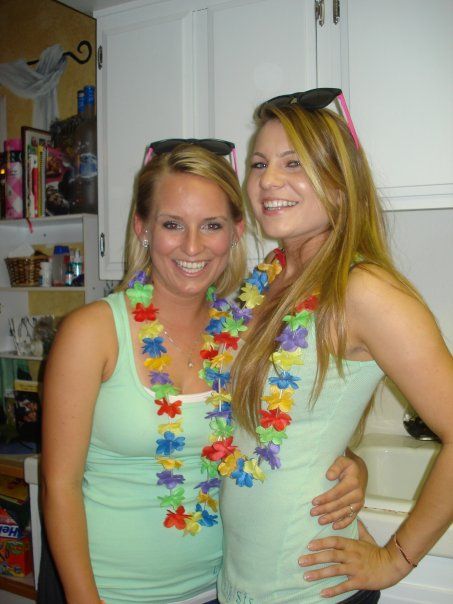 And a little for me to love on for life. Oh this girl. My maid of honor, my sounding board, my long distance Skype friend... Seriously, this girl and I talked more when she was in Europe than we do when she's home. I guess distance just does something for the heart. P.S. She's going to be the Meredith Gry (
watch the show
folks, you're missing out) and our medical community is going to be blessed by her mind and her heart.
It's not all party and friends though. There's life skills that are developed too. Like being the worried mother hen to one hundred ornery chicks who run amuck at a moment's notice. I spent a year overseeing the chapter's administrative stuff -attendance, reports, forms, and the like- which also happened to be the position of the chapter's police officer, judge, and jury. It wasn't my favorite position to be in, but it did teach me the importance of being proactive... Pursuing a solution to any possible problem before it became one. I did okay -hey, you win some, you lose some. I was thankful when the year came to a close and the responsibility could be passed on to a younger, more qualified girl.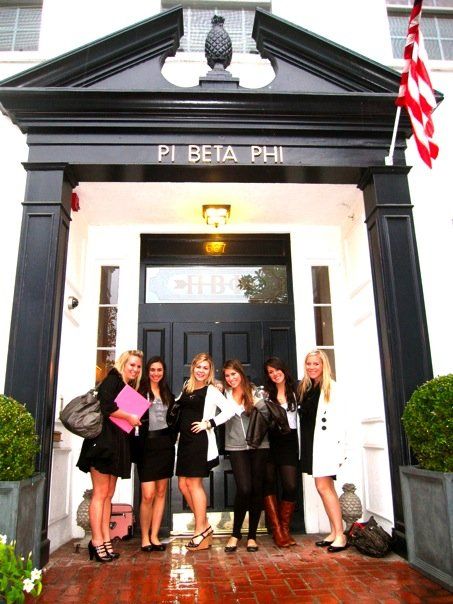 The lesson these women taught me most: be yourself. I was the designated driver for two years, by choice. My fear of God -and my parents who were funding my college experience- kept me from drinking until I was 21. Not once did a girl hassle me about it. Not once. Instead, they asked for rides and I'm willing to oblige. We've all got to get there and I'd prefer it to be in a single piece.
Some girls dressed sexy for events and looked damn good doing it. I didn't (and still don't) have that confidence, so I'd stick with throwing together something out of what's in my closet... Like, red sweats turned Thing 1 and Thing 2 costume. We were the ones to see at that date event. (And it's all natural, folks. My hair does a really great tease)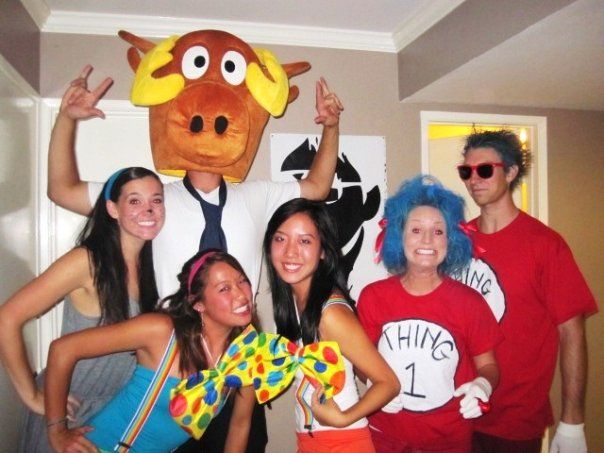 Maybe I was paying for my friends? But wouldn't that mean the sisterhood would stop the day I graduate and my dues came to a close. Because I had five of my sisters standing by my side when I promised forever to Mr. Thomas. Three as bridesmaids, two as guests. Not one thought twice about being a part of that night. I've since attended the wedding of one of them myself... She had two tables of our chapter hooting and hollering during her first dance. (Side note: we finished off the night tearing up the dance floor as a team of crazed twenty-somethings)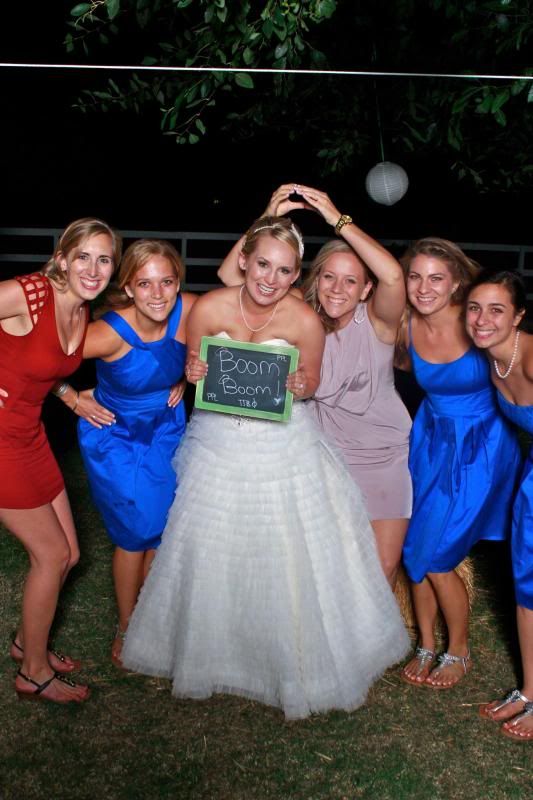 If joining a sorority means I'm buying friends, it's the best damn investment this girl's ever made. Not only did I get friends, fun, and many a costume in my three years of Pi Phi life, I also caught myself a frat boy. He was blonde, muscle-bound, and funny with brains to boot. Just like the sorority girls, the boys have their stereotypes too, and -while I can see where some of the ideas come from- I can say I was proud to call all of them my friends. They were the older brothers, younger brothers, and cousins I never really needed more of, but they, too, enriched my college experience.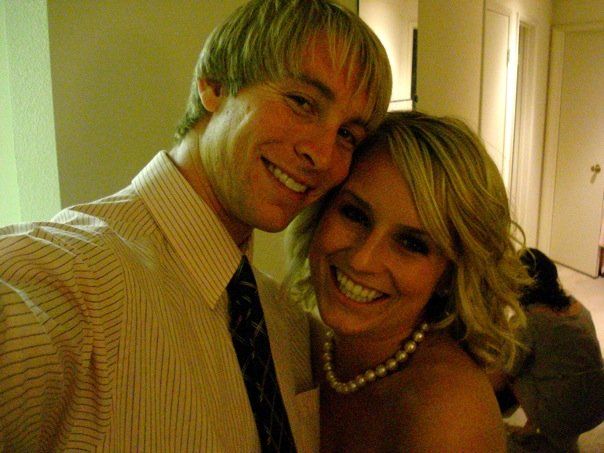 They taught me that chivalry isn't dead over the course of three years. They showed me that men care for girls in two ways (1) as a love interest and (2) as a sister. For many of them, I was a little sister, sometimes menacing, mostly sweet, and occasionally funny. And then, that one Pike caught my eye. Truth be told, I caught his and while he pursued, I played a little bit hard to get. I was busy and pledging and had previously been interested in a couple of his brothers (not at the same time).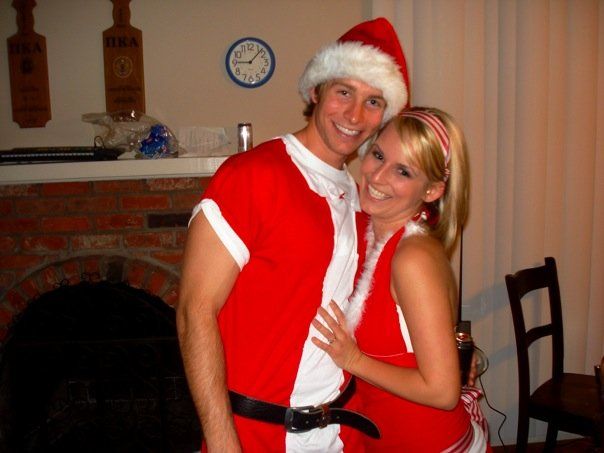 A sweet man's hard to resist even for the toughest of girls. And we quickly became a permanent pair. Really, who could say no to a man who is always up for a costume event. (He got almost as good as I did at eyeing potential in our closets) We spent many nights dancing around on beer-soaked floors, giggling on bus rides home, and even enjoyed a trip to Vegas with his chapter. Never did I imagine my first and fondest of memories with my husband would be spent with two hundred of our Greek siblings.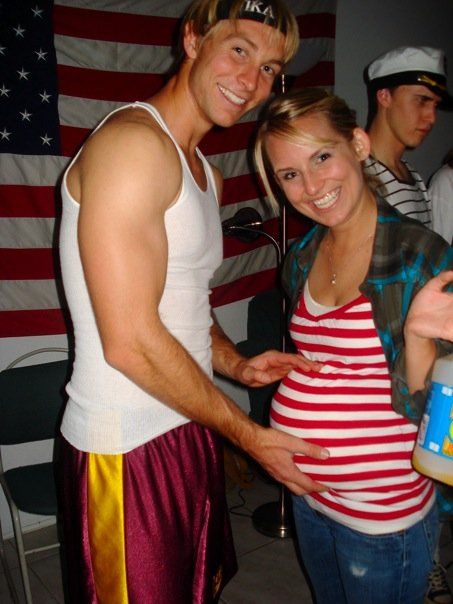 So, if you're thinking about going Greek, do it.
If you're hating on Greeks, get over it.
If you're a current Greek, cherish it. If you're an alumni Greek, remember it?
Married, working, wife life is grand and beautiful and adventurous in its own right, but if I was going to go back to a time in my life, it'd be those years. I'd dance longer, scream louder, and wear my letters prouder because, really, you've got nothing to lose but that precious, wild night filled time.